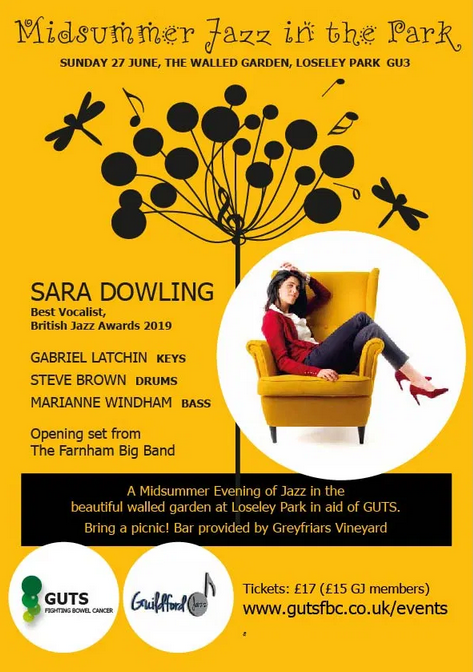 MIDSUMMER JAZZ IN THE PARK
Featuring jazz vocalist SARA DOWLING (BEST JAZZ VOCALIST, BRITISH JAZZ AWARDS 2019 ) and an opening set from the FARNHAM BIG BAND.
One of the most exciting voices of today's Jazz world, Sara Dowling was voted best vocalist for the British Jazz Awards 2019 and often guests with the Ronnie Scott's All Star Band. Sara is a jazz singer who is deeply inspired by the repertoire of the classic American songbook, her most important influences are Sarah Vaughan and Betty Carter. The fabulous fearlessness with which she approaches the act of singing, the burning conviction, the irresistible communicative power and jaw-dropping musicality she brings to it makes Sara one of the UK's leading Jazz vocalists. With Gabriel Latchin (piano), Steve Brown (drums) and Marianne WIndham (bass)
Ticket sales will initially be limited to 200, which will allow everyone to be social distanced if restrictions are still in place. More tickets will be released later if guidelines change and social distancing is not required, but as demand for tickets is likely to be very high we recommend buying tickets while they're still available.
Tickets are £17 each (£15 for Guildford Jazz Members, please contact us via info@guildfordjazz.org.uk if you do not have the discount code), with all profits going to our charity partner GUTS, fighting bowel cancer. Music from 5pm to 8.30pm. Please note: we intend to stagger entry times to avoid congestion around the entrance so please make a point of checking the entry time on your tickets and try to stick to that time – it's for everyone's comfort and safety!