"What I can say with absolute certainty is that my father loved Jazz, it was a big part of his life and it became an even bigger part of mine"
Childhood
Two things made my father cry in his lifetime. When his beloved sheepdog 'Jad' passed away and whenever he heard the Great Errol Garner's first album 'Serenade to Laura' 1945. Every time I put that record on I often wondered if he named me 'Laura' for that reason despite the rest of my family calling me Sara, which is my second name. I wish I'd asked him now. What I can say with absolute certainty is that my father loved Jazz, it was a big part of his life and it became an even bigger part of mine.
At a young age my environment played a significant influence in my musical journey, coming from Palestinian-Irish parentage. My father's record collection consisted of Erroll Garner, George Shearing, Art Tatum, Fats Waller, Lester Young and Ben Webster to the haunting melodies blaring out from my mother's radio of the great Arabic chanteuses Fairuz and Umm Kalthoum.
I was born in Muscat, the capital of Oman, where my father worked as a pilot. Although I spent much of my early childhood travelling between Oman and Jordan, where my grandmother aunties and uncles lived. Those journeys through vast deserts will always be indelibly etched in my memory. It pained my parents when they quickly realised that educating four children in Jordan would be impossible, since opportunities are only available to children that go to private fee paying schools, a financial impossibilty for my father. Therefore, they made the difficult decision to move to England. My childhood home transformed from the dusty streets of Amman, Jordan to a secluded sheep farm in Landsend Cornwall. This was to say the least, a transitional period. Every week we would bring the flock of sheep into the yard for a general check, usually to address any 'foot rot' problems. 'Baba' (father) would have the tape player going and the sweet tones of Ben Webster would float over the sheep in the dying light of day.
Before jazz came along it was cello, cello, cello…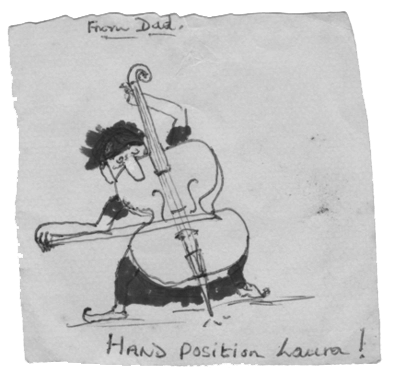 My dear baba made sure that I got whatever opportunities were available for a 9-year-old girl living in Landsend Cornwall. It was there one of the nuns from my primary school gave me a rather shiny looking cello and said "Dowling, see what you make of it, it's only gathering dust in that music cupboard". After a few years of private lessons baba flew me from Landsend Aerodrome to Bristol. We caught a connecting flight to Manchester where I had an audition for Chethams School Of Music, age 12.
I was awarded a scholarship and spent the subsequent ten years until 2004 far from home, loving, living, breathing, practicing and crying over the cello, receiving a thorough classical training before gaining a degree at the Royal Northern College of Music. Those years reinforced the fundamentals of my musical basis and ability to perform. Accolades on the cello included performances for Yo Yo Ma, Steven Isserlis, and a concerto performance with the Halle Orchestra, playing the Saint Saens Cello Concerto.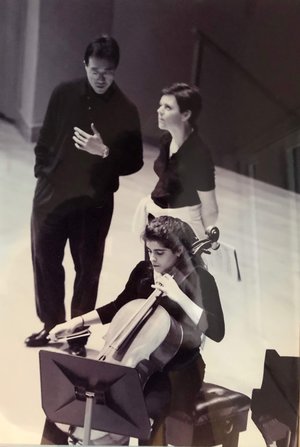 Sing, sing, sing
You must be wondering where the singing came in. In truth, my only experience of singing was in the school chamber choir and my only exposure to jazz was listening to records. At this point in my life I felt lost with music, burnt out and unsatisfied with only being able to express myself in orchestra. The thought of having to raise enough money to buy my own cello felt a mountain to climb, let alone orchestral auditions. I have a very heavy heart when I think retrospectively about this period of my life for the simple fact that I let go of my cello. In fact the road became so hazy that I left music altogether to become a classroom teacher at a comprehensive school in Bolton. I wondered through the next 5 years feeling empty and lost without my music but gained so much love from all the children I met along the way. I feel so honoured to have played a part in their education and their school years. If there is one way to learn the art of performing, become a teacher. Perhaps those 5 years of teaching were the most important stepping stones to make that transition from being an instrumentalist to becoming a singer.
Then one day I walked past Matt and Phreds jazz club in Manchester where I felt a moment of utter madness, which led me to get up and sing a number. I finally found it.
2010 was quite a year. I quit my teaching job, which to my parents' horror meant their daughter had given up all financial stability of being a full time teacher. In fact my favourite writer explains it perfectly.
"I am sure it is everyone's experience, as it has been mine, that any discovery we make about ourselves or the meaning of life is never, like a scientific discovery, a coming upon something entirely new and unsuspected; it is rather, the coming to conscious recognition of something, which we really knew all the time but, because we were unwilling to formulate it correctly, we did not hither to know we knew."
W.H Auden
I gradually started to learn the nuts and bolts of jazz, building a repertoire, listening and absorbing. It's amazing how much one can learn about phrasing, harmony, and rhythmic interplay by purely listening to the greats. I have never been afraid of expressing myself and when I think back, I was very expressive as a cellist. It was a whole new world being able to extemporize with words and melody. My connection to jazz so far had mainly been instrumental jazz which in somes ways I'm very relieved about. I never want to mimic any of the great singers like Sarah Vaughan, Billie Holiday and Ella fitzgerald. There will only ever be one of them and the importance of allowing your own voice to develop and flouirsh is part of one's musical journey. However, when I decided to become a vocalist they all played a significant part in my development, no lady in jazz did it better than the stylish Anita O'Day who gave me the courage to tackle those faster tempos. It's obvious to say that Ella Fitzgerald and Billie Holiday were heavy influences too. There's no other way of saying it, If you're a jazz singer and you're learning repertoire, you've got to start with Ella. She'll teach you everything you need to know. Billie will remind you that you've got to be true and real and mean every word you sing. Then along came Nancy Wilson and Dakota Staton who put the blues and soul into their jazz standards. However, no woman in the whole history of Jazz speaks to me louder than the great Betty Carter whose musicianship and freedom of delivery has inspired me beyond all imagination. All these women have been tremendous teachers to me through the recordings they have left with their legacy.
Nowadays, my focus is jazz but in the past I have been exercised my ability as a writer, penning songs for the music industry`s most iconic and prestigious publishing companies EMI, SONY, ATV, WARNER and ITV JUICE label writing for National advertising campaigns, the most recent a Dulux Advert, 'Paint the Town'. I have also had the privilege of co-writing for BBC programs and moreover, mainstream US film music.
I have an equal passion for writing songs. So I put pen to paper and wrote two compositions for my first album 'From Shadows Into Light'. Take Me To The Sun is a vigorous and sensuous song that allows me to deliver with ferocity, speed and wild abandon. You've Got My Heart On A String (co-written with Rob Barron) is a heart-break song tinged with a sadness of love turned sour. I have also written another two jazz ballads A Woman's Heart and The Rainiest Day which will feature on my forthcoming album in 2020, one of which has been filmed.

In 2019 I almost fell of my chair when I won 'Best Vocalist' in the British Jazz Awards. I've been in London for 10 years and I finally had some recognition. My voice is finally starting to take shape, into a voice of it's own. Supported by some new material I've written during the dreaded two year hiatus. I would describe my emerging sound as a vibrant fusion of nostalgic classical harmonies and intense American post-bop rhythms of the late 1960s, where interplay and improvisation are at the heart of the performance.
My new album 'Right Now', out later this year, includes original arrangements and compositions (such as 'Phoenix From The Ashes' and 'The Encounter').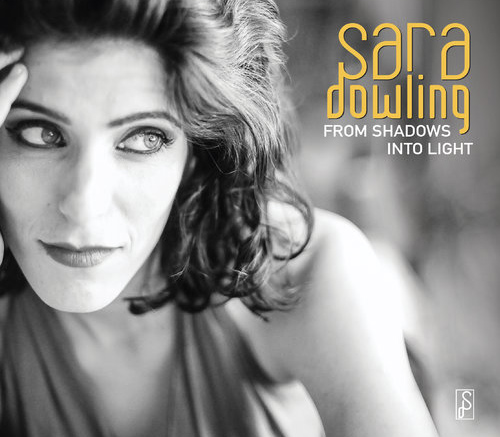 My First Album: In 2015 I gathered some wonderful musicians, Rob Barron (piano), Jeremy Brown (Double Bass) and Matt Home (Drums) to make my very first jazz record, 'From Shadows into Light'. This album has two of my original compositions "You've Got My Heart On A String" (music Co-written with Rob Barron) and 'Take Me To The Sun". This album pays hommage to my greatest influence Betty Carter. It is a mixture of tradional jazz standards, with some newer jazz compositions like Open The Door and Social Call. The final track is a bonus track featuring Mike Outram on Guitar and Andrew Kingslow on Hammond Organ playing Henry Mancini's 'Two For The Road".
---
"Dowling has a vocal with timeless quality"
5* – Jazz journal

"A remarkable one off voice"
Jazz Views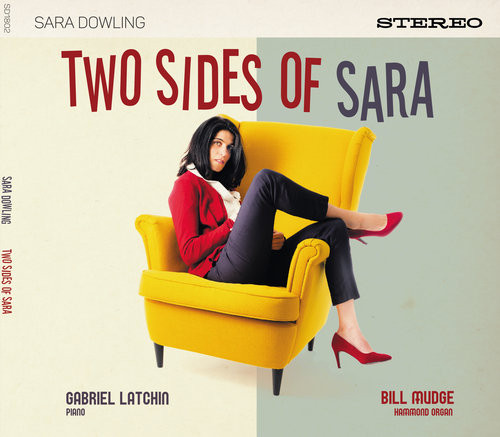 My Second Album: is a duo record with pianist Gabriel Latchin and Hammond Organist Bill Mudge. Tracks 1-7 are (Vocal and Piano) and tracks 8-14 are (Vocal and Hammond Organ), This album is very exposing and a true picture of my voice in 2017/2018.
There are no original compositions, just jazz standards. This record was intentionally meant to be a good old-fashioned Jazz album.
---
"A 5 star and counting album […] this lady is going to be big!."
Bebop Spoken Here
"Sara is now a real force of nature within Uk jazz with surely a great future ahead of her".
Jazz Views
"Her respect for each song is palpable and her diction worthy of envy"
Jazz Journal