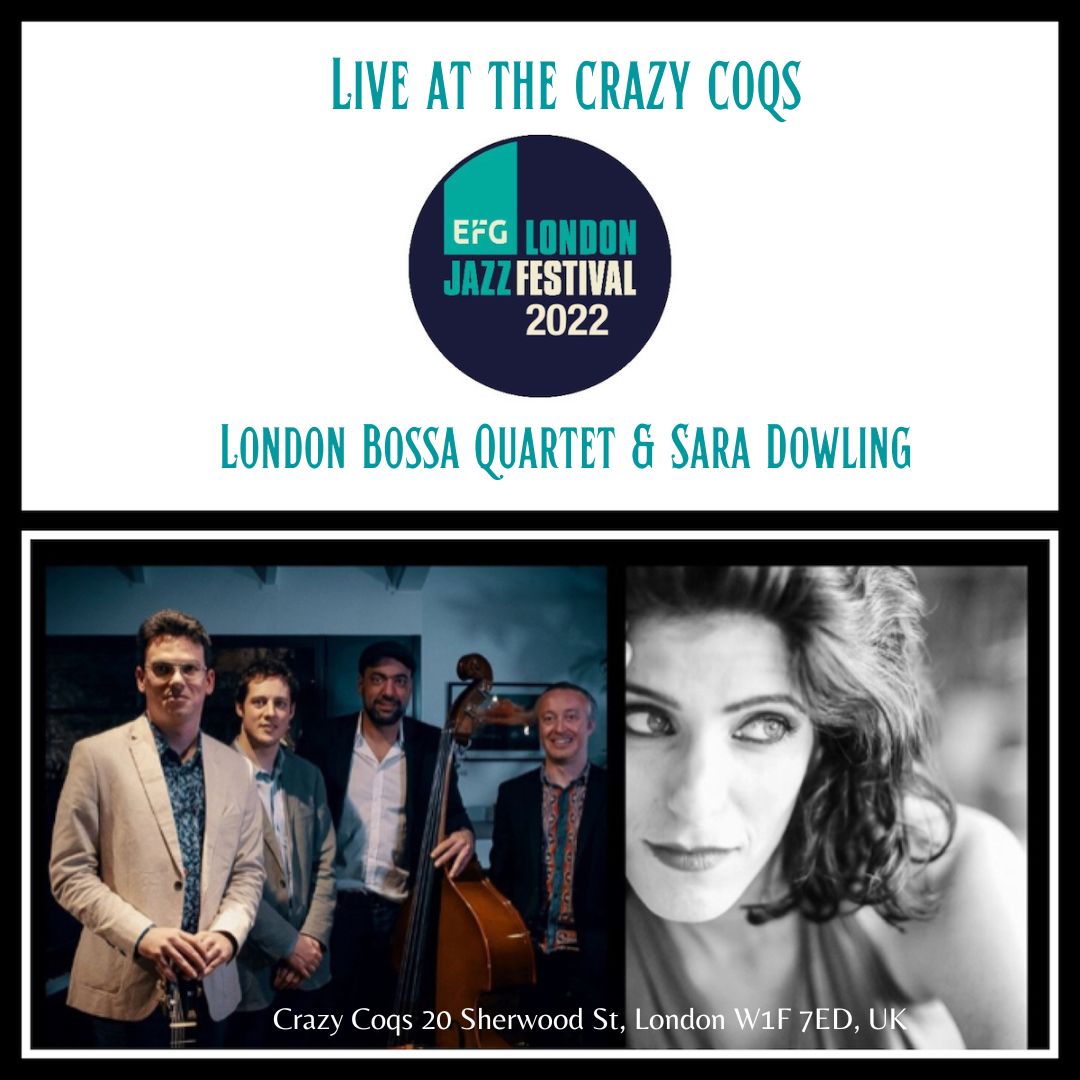 London Bossa Quartet ft Sara Dowling
EFG London Jazz Festival 2022
Wednesday November 16
Crazy Coqs

,

Brasserie Zedel

,

Sherwood Street

, Soho, London

The London Bossa Quartet, featuring Luiz Morais on the 7-string guitar, are one of the most talked about and consistently sold out Brazillian performers  in London at top venues including Crazy Coqs, Pizza Express Live Holborn and Piano Smithfield.

They entertain with the classic music of Urban Rio performing melodies from Tom Jobim and Baden Powell, including well know favourites "One Note Samba"and "The Girl from Ipanema" and more, plus compelling music from many other Brazilian masters,  together with Morais' original compositions.

London Bossa Quartet's guest for  this concert, Sara Dowling, voted best singer in the British Jazz Awards, needs no introduction to  Crazy Coqs audiences. She has appeared, with her trio, on several occasions and captivated sold-out audiences with her distinctive, charismatic vocal presence.

Born in the North East of Brazil, guitarist, arranger and composer Luiz Morais has been based in London since 2010, forging an innovative and experimental rebirth of the Brazilian musical tradition in the wider landscape of Jazz and world music.  He has play played with the finest contemporary performers in the UK including Adriano Adewale,  Gareth Lockrane and Georgia Mancio and has played with the legendary Gilberto Gil.

London Bossa Quartet, with guest Sara Dowling, will entrance the Crazy Coqs audience  for a party of toe tapping, hip swaying, finger popping samba, bossa nova music.