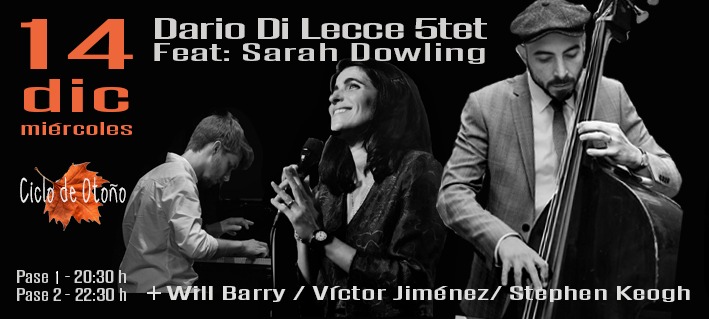 Jimmy Glass 'Dario Di Lecce & Friends'
Dario Di Lecce 5tet
Sara Dowling, voz, Víctor Jiménez. saxo alto, Will Barry, piano, Dario Di Lecce, contrabajo, Stephen Keogh, batería
Este concierto será una velada muy especial. Aunque este concierto se ha anunciado como el Quinteto Dario Di Lecce, Dario nos ha invitado a reunirnos y a elegir un conjunto de repertorio en colaboración que muestre los casos de todos nosotros. Consistirá en composiciones originales y arreglos de Will Barry, Víctor Jiménez, Dario Di Lecce y Sara Dowling, así como de algunos de los compositores Post bop favoritos de Dario, como Jackie McLean y Wayne Shorter.
Así que esperen una velada en el Jimmy Glass en la que se compartirá el micrófono, la música será variada, nadie es el jefe y todos estaremos a la altura de las circunstancias, infundiendo la música con nuestro enfoque individual.
Traducción realizada con la versión gratuita del traductor www.DeepL.com/Translator
17 € un solo Pase / 23 € los 2 Pases
17 € one set / 23 € the two sets
IN ENGLISH
Dario Di Lecce 5tet.

Sara Dowling, voice, Víctor Jiménez. alto Saxophone, Will Barry, piano, Dario Di Lecce, double bass, Stephen Keogh, drums

This concert will be a very special evening. Although this concert has been billed as the Dario Di Lecce Quartet, Dario has invited us to come together and choose a collaborative set of repertoire that show cases all of us. It will consist of  original compositons and arrangements from Will Barry, Víctor Jiménez, Dario Di Lecce and Sara Dowling as well some of Dario's favourite Post bop composers such as Jackie McLean and Wayne Shorter.
So expect an evening at Jimmy Glass where the microphone will be shared, the music will be varied, no one is boss and we will all rise to the occasion, infusing the music with our individual approach.
2 Houses:
1st House: 8:30 – 9:30pm
2nd House: 10:30 – 11:30pm