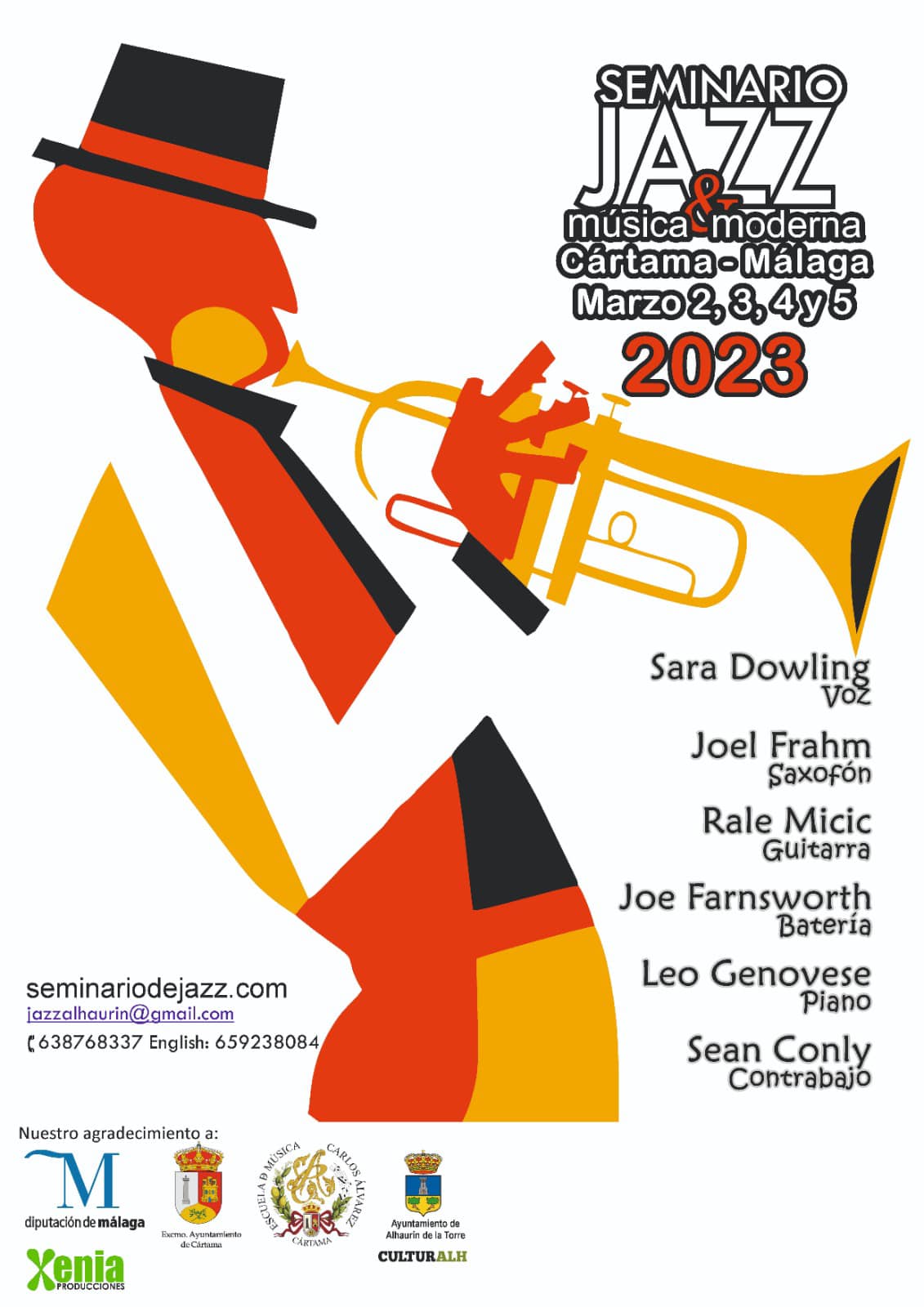 Jazz Course in Málaga
Estos músicos son hoy día de los más destacados en la escena del jazz mundial, y nos hace muy felices haberlos podido reunir para la ocasión.
Este año, como novedad, el seminario se celebrará en la escuela municipal de música de Cártama (en lugar de Alhaurín de la Torre). Cártama es un bonito pueblo de Málaga, con gran actividad cultural y un bello paraje natural. En la escuela se impartirán las clases de instrumento, combo y masterclases. Al concluir las clases un autobús se encargará de llevar a los alumnos al auditorio MVA en Málaga, donde cada día, algunos de los profesores del seminario realizarán un concierto (GRATUITO PARA LOS ALUMNOS). Al concluir este, el autobús traerá de vuelta a todos al lugar donde se celebrarán las jam sessions en Cártama. Son cuatro días intensos llenos de música, convivencia y bonitas experiencias.
Este año, os alentamos a que os alojeis en GCE Hoteles de Cártama. Hotel cercano a la escuela de música, que sería en su totalidad para los alumnos y profesores del seminario durante esos días, donde se realizarán las jam sessions y donde ofrecerán unos precios exclusivos para los alumnos del seminario (52 € habitación doble / 40 € habitación individual / 65 € habitación triple) con desayunos incluidos.
Durante cuatro días los alumnos disfrutarán de: clases de instrumentos con los artistas invitados, combos dirigidos por los profesores titulares, masters class, conciertos estelares y jam sessions, todo esto en un bonito entorno, con buen clima y comida excelente. Así que, esperamos contar con vuestra presencia y que disfrutéis de esta magnífica experiencia y la magia del seminario.
Jazzalhaurin@gmail.com
These musicians are today one of the most outstanding people on the global jazz scene, and it makes us very happy to have been able to bring them together for the occasion.
This year, as a novelty, the seminar will be held at the municipal music school of Cartama (instead of Alhaurín de la Torre). Cartama is a beautiful town in Malaga, with great cultural activity and a beautiful natural landscape. Instrument, combo and masterclasses will be given at the school. At the end of classes a bus will take care of taking the students to the MVA auditorium in Malaga, where every day, some of the teachers of the seminar will perform a concert (FREE FOR STUDENTS). Concluding this one, the bus will bring everyone back to the place where the jam sessions will be held in Cartama. It's four intense days full of music, living together and beautiful experiences.
This year, we encourage you to stay at GCE Hotels de Cartama. Hotel close to the music school, which would be in its entirety for the students and teachers of the seminar during those days, where the jam sessions will be held and where they will offer an exclusive prices for the students of the seminar (52 € habac double ion / 40 € single room / 65 € triple room) with breakfasts included.
For four days students will enjoy: instruments classes with guest artists, combos directed by starting teachers, masters class, stellar concerts and jam sessions, all this in a nice environment, with good weather and com excellent ride. So, we look forward to your presence and that you enjoy this magnificent experience and magic of the seminar.
Jazzalhaurin@gmail.com